Partners - WiSA Global GBA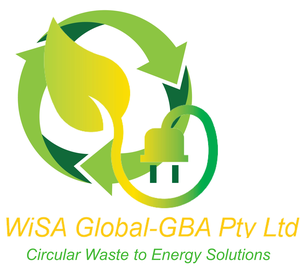 WiSA Global-GBA is a valued, integral partner of the WiSA Group including WiSA Farm & Irrigation Automation.
WiSA's objectives including the best possible utilisation of existing resources perfectly compliment WiSA Global-GBA's waste technology solution.
Converting new and existing bio-waste products into higher value products as well as carbon removal – a truly green solution!
WiSA Global-GBA manufactures second to none Pyrolysis equipment for the highest-grade recycling of waste products such as tyres, oil, chicken litter, coffee grounds, palm fronds, and much more.
Our equipment is easy to operate, devoid of harmful output pollution during operation whilst producing environmentally friendly products for use on your site or to on-sell, turning a cost into revenue!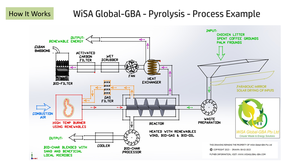 The WiSA Global-GBA can be transported almost anywhere within Australia and globally, only requiring up to two shipping containers for one unit and all of the ancileries.
The whole systems is completely scalable meaning multiple can be placed on site. They can be relocated without the great expense of cranes and even operated from the back of a truck!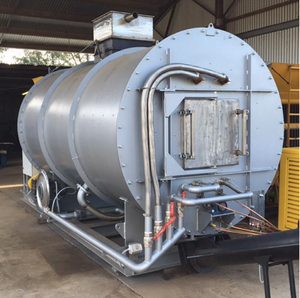 WiSA Global-GBA Pyrolysis equipment produces BIOCHAR and BIOCHAR + FERTILIZER ESA NUTRIMIX - current applications for these prodcuts are numerous and well documented.
WISA Global-GBA's BIOCHAR output is exceptionally high quality and lends itself perfectly to the many industrial and farming/agricultural sectors.
In the near future we will begin to add real world case studies for further review and display the true potential of this exciting equiment and process. Stay tuned for more!
Our equipment is manufactured to an excepetional standard and carries with certifactions as well as eligibility to be caculated within carbon offsets:
WiSA Global-GBA Equipment carry EBC C-sink certification
Eligible for EBC, Verra and Puro Earth certifications
Net carbon removal value is quantifiable in Carbon Credits (CORCs)
Please contact us to discuss how we can best service your needs and help you make an excellent choice for the environment and your profitability using the details below:
Email: paul@wisaglobal-gba.com Call us: 1300 887 380